RENT AND START EARNING AS A DRIVER!
Toyota Yaris Cross Hybrid with Taxi Insurance + LPG
🚖 Rent a Toyota Yaris Cross Hybrid with Taxi Insurance + LPG 🚖
Are you looking for a reliable and economical car for your work as a taxi driver? We have the perfect solution for you!
The Toyota Yaris Cross Hybrid is a choice that combines comfort, fuel efficiency, and eco-friendliness. Now, you have the opportunity to rent this modern car with comprehensive taxi insurance, allowing you to focus on your work and serving customers without worrying about the risks associated with traffic.
Why should you choose our offer?
✅ The Toyota Yaris Cross Hybrid is a vehicle that combines a gasoline engine with hybrid technology, making it not only fuel-efficient but also environmentally friendly.
✅ Comfort and style: The cabin of the Toyota Yaris Cross will impress you with its modern design and comfort, ensuring that your passengers feel at ease during every journey.
✅ Economy: Thanks to the hybrid drive, you'll save on fuel costs, translating into lower operating expenses. Plus we have LPG!
✅ Taxi insurance: Our offer includes full taxi insurance, providing you with protection in case of unexpected situations on the road.
✅ Professional service: We deliver the car to you in perfect technical condition, ensuring your comfort and safety.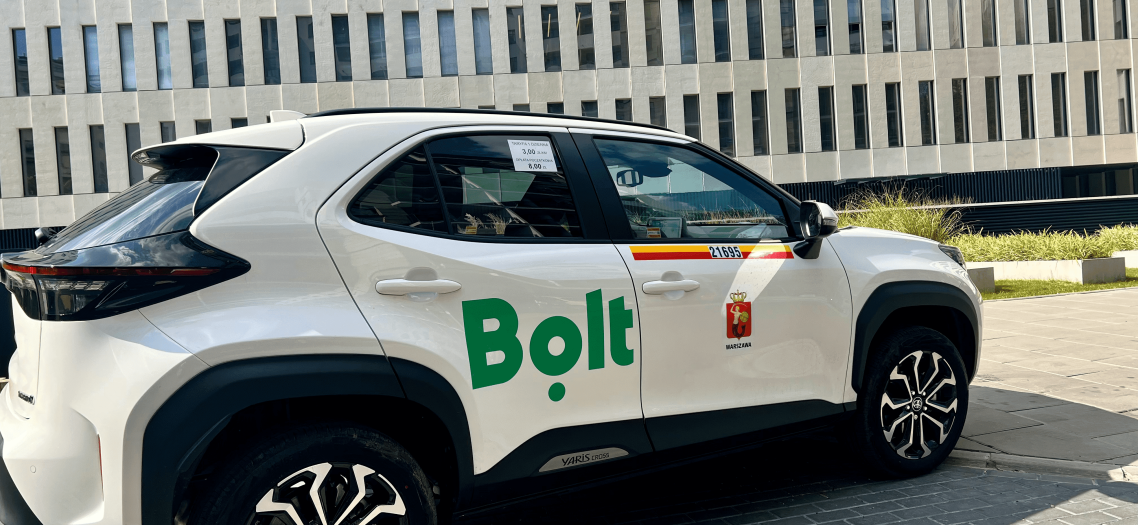 🚖 Rent a Toyota Yaris Cross Hybrid with Taxi Insurance + LPG 🚖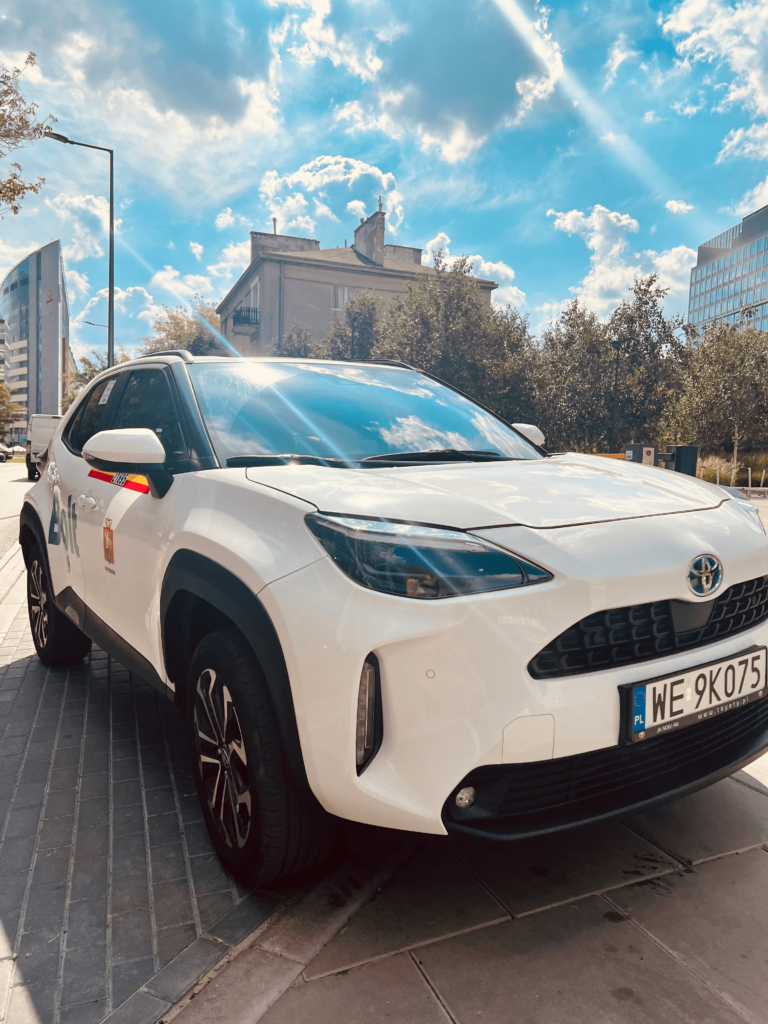 Don't hesitate! This offer is an excellent opportunity to expand your taxi business, knowing that you have a reliable and eco-friendly vehicle at your disposal, and it's brand new!
🚖 Full Taxi Marking in Compliance with Warsaw Requirements: Our vehicles are equipped with full taxi markings that meet all the requirements set by the authorities in Warsaw. This ensures compliance with local regulations, allowing you to provide passenger transportation services with full legality.
Remember that our fleet is ready to operate in Warsaw, meeting all the necessary criteria for taxi drivers in the capital.
🔧 Regular Servicing: Our cars are meticulously serviced by experienced mechanics, ensuring not only reliability but also the extended lifespan of the vehicle.
🛡️ Insurance OC/AC + TAXI: The safety of our customers and drivers is our top priority. All our vehicles are covered by comprehensive liability insurance (OC), autocasco insurance (AC), and insurance specially tailored to the needs of the taxi industry.
This guarantees that you are fully protected in every situation.
Our mission is to provide not only comfortable but also safe solutions for taxi drivers. Contact us to learn more about available vehicles and favorable rental conditions. Your success in the taxi industry is also our goal! Plus, you don't need to have your own taxi business – we can settle your rides on Bolt, Uber, and Freenow apps!
START WORKING AS A DRIVER!
Toyota Yaris Cross Hybrid
LPG + Full Taxi Marking
Comprehensive Taxi Insurance (Third Party Liability and Comprehensive Coverage)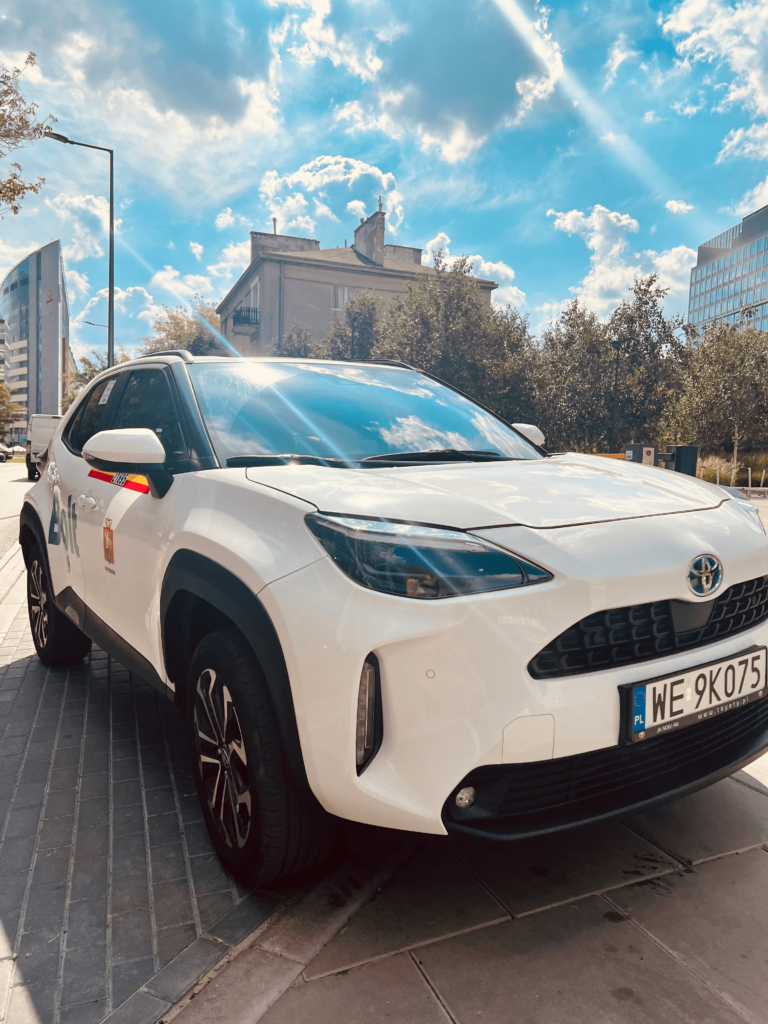 ✅ Driver's sun visor mirror
✅ Electrically adjustable front and rear windows with anti-pinch protection
✅ Reversing camera
✅ LED fog lights
✅ Electrically adjustable external mirrors
✅ Heated external mirrors
✅ Passenger's sun visor mirror
✅ Manual steering column adjustment in two planes
✅ Hill Start Assist Control (HAC)
✅ Tire Pressure Monitoring System (TPMS)
✅ Front and side airbags for the driver and passenger
✅ Central airbags between the driver and passenger in the front row
✅ 12 V socket in the central console
✅ Remote-controlled central locking
✅ Manual air conditioning
✅ Delayed headlight shutdown after engine off (Follow me home)
✅ Automatic lights with twilight sensor
✅ Projector-type headlights
✅ Rear position, stop, and fog lights (LED)
✅ Painted external door handles
✅ Passenger's front airbag deactivation switch
✅ Child seat mounting system on the outer rear seats (ISOFIX)
✅ Rear door child safety locks
✅ Seatbelt not fastened warning
✅ Electric parking brake
✅ Curtain airbags
✅ Shark-fin roof antenna
✅ 16″ aluminum alloy wheels with 205/65 R16 tires
✅ Front door finish with felt material
✅ Light-toned headliner
✅ Rear seat split and fold in a 60:40 ratio
✅ USB port
✅ Bluetooth® system enabling wireless phone connectivity (including CarPlay)
✅ Digital Audio Broadcasting (DAB) radio station support
✅ Toyota Touch 2® multimedia system with an 8″ color touchscreen
✅ Color display on the instrument panel (4.2″)
✅ Automatic speed limiter (ASL)
✅ Driver fatigue detection system (SWS)
✅ Automatic emergency call system (eCall)
✅ Apple CarPlay™ and Android Auto™ interface
✅ 4 speakers
✅ Toyota Connected Car communication services
✅ Early collision risk response system (PCS) with pedestrian and cyclist detection
✅ Collision avoidance system at intersections
✅ Steering assistance in case of collision risk
✅ Lane-keeping assistant (LTA)
✅ Automatic headlights (AHB)
✅ Road sign recognition system (RSA)
✅ Intelligent adaptive cruise control (IACC)
✅ Systems assisting the operation of the steering, braking, and suspension (ABS, EBD, BA, VSC, TRC, EPS)

Rabindranatha Tagore 3,
02-647 Warszawa
info@aledrive.pl
Telefon